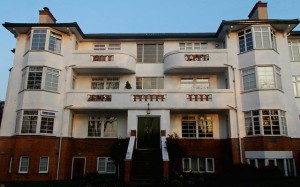 We are failing to make energy efficiency improvements in blocks of flats at the same rate as we are making them in houses.
In a new project led by Oxford University Law Department and supported by TLT Solicitors and Westminster Council, Future Climate is working to promote new policy ideas to make it easier for energy improvements to proceed in blocks of flats.
The least energy efficient type of homes in the English stock are flats in converted houses, and private blocks see far lower levels of
retrofitted insulation and double glazing than houses (English Housing  Survey).
There is one big reason for the current lack of progress in improving energy efficiency in  blocks of flats. A large number of different parties can have a title to – or responsibility for – any given block: freeholders,
leaseholders, short-term tenants, mortgagees and management companies. Under the current system, it is
very difficult for these parties to reach agreement practically and lawfully for energy improvement
works to proceed.
The situation is most complicated in England and Wales: property law around blocks of flats is somewhat simpler in Scotland. But right across Great Britain* there is a challenge around persuading different owners to agree for works to proceed.
Working with the lawyers and legal academics, we have have developed the following policy ideas that could change the experience of delivering energy efficiency measures in blocks. Over the next six months with Oxford University Law Department we'll be seeking the views of policy makers, housing specialists and the energy efficiency industry on the viability of these proposals.
For more detail download our latest briefing note here
What do you think of these ideas? We're very keen to hear your views.
A duty on the freeholder or other party having control of the building to undertake an energy efficiency
survey of the whole building to identify where measures could be installed and to provide a cost/benefit
analysis.
An independent right for leaseholders and/or freeholders to improve the energy efficiency of buildings in
which they have an interest.
Changing leases to permit energy efficiency measures to be undertaken and the cost recovered via the
service charge
Where a lease contains a covenant prohibiting a leaseholder from carrying out alterations within a flat, overriding such a provision where the leaseholder intends to undertake energy efficiency measures.
*This project does not cover Northern Ireland